THE SOULUTION:
StayAWAKE!
Keeps drivers from entering micro sleep mode =
Bio Feedback from a "brain wave" sensor on driver's  hatband / headband will sense when driver is entering micro sleep.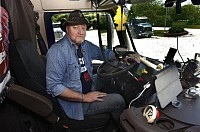 A LOUD ALARM SOUNDS 
WHEN THE DRIVER BEGINS TO ENTER MICRO SLEEP

THIS NOT ONLY AWAKENS THE DRIVER, BUT THE LOUD UNPLEASANT, STARTLING ALARM 'CONDITIONS THE DRIVER'S HIND BRAIN TO NOT BEGIN SLEEP AGAIN WHILE DRIVING TO AVOID THE LOUD "PUNISHMENT"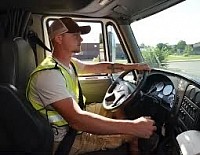 BIO SENSORS MAY BE MOUNTED IN A HEADBAND, HAT BAND, ETC…
StayAWAKE! IS CONNECTED TO A SMALL CONTROL BOX AND / OR  DRIVER'S SMART PHONE OR TABLET BY WAY OF BLUETOOTH / WIRELESS.
WHEN StayAWAKE! ALARMS DUE TO AN ONCOMING MICRO SLEEP EVENT, stayAWAKE! CAN CAUSE THE DRIVER'S CELL PHONE TO CALL THE OFFICE / DISPATCHER  TO REPORT THE INCIDENT.
The drivers location and speed are reported.
The driver's dispatcher can call the driver on his mobile phone and instruct him to pull off at the next rest stop, take a nap and then call for instructions…